---
---
Annual report features company`s strategies for achieving net-zero carbon electricity by 2050
The link in the article last week did not work
so the actual report is HERE.

MADISON, Wis.--(BUSINESS WIRE)--Madison Gas and Electric (MGE) has published its 2019 Environmental and Sustainability Report, detailing its sustainable energy goals including net-zero carbon electricity by 2050. The report covers the company`s clean energy investments and its partnerships with customers and other stakeholders to advance sustainability through energy efficiency, new technologies and other ways.
"As your community energy company, MGE is committed to serving and working with all our customers to create a more sustainable future for the benefit of all those we serve," Chairman, President and CEO Jeff Keebler said. "Our goal reflects our vision and signals our direction, but it does not determine our pace. We`re making decisions every day to achieve deep decarbonization as quickly and cost-effectively as we can while working to ensure all customers benefit from the use of new technologies and investments in clean energy."
Report highlights...
...more

Ken Notes: Let`s work together to get there...
---

Wisconsin lawmakers cut environmental protection funding more than any other state over the past decade, according to a new study of state pollution control programs.
Adjusting for inflation, Department of Natural Resources spending on programs designed to protect public health and the environment from pollutants was cut 36% between 2008 and 2018, according to findings of the Environmental Integrity Project...
See Also:

...more

Ken Notes: Several articles mention this nationally. Is this really the attention we want for Wisconsin. Lets become the State working with business on environmental issues...
---
SCS - At the forefront of sustainable environmental solutions for over 40 years
---
ELLISVILLE - Arlin Karnopp doesn't drink the water in his house.?
Taped to the refrigerator is a sign that says, "Do Not Use." He's afraid his grandchildren will fill their cups from the ice dispenser on the door.??
Since 2015, results of his well tests show potentially harmful bacteria and nitrates. Karnopp blames manure spread by large dairy farms on a ridge next to his property...
...."I'm very disgusted," he said. "If we could only turn back the clock."

Turning it back even five years would take Karnopp to a time when Wisconsin boasted more than 10,000 farms — most of them small, family operations passed down for generations.
Since then, a drawn-out assault of low milk prices has pummeled America`s Dairyland. More than 2,700 Wisconsin dairy farms have gone out of business. Many more face tough decisions this winter as a poor fall harvest has led to soaring prices for cattle feed....
The average size of a Wisconsin dairy farm is about 150 cows. Farms qualify as CAFOs when their milk-producing herds reach 700......
...more

Ken Notes:Please read this....
---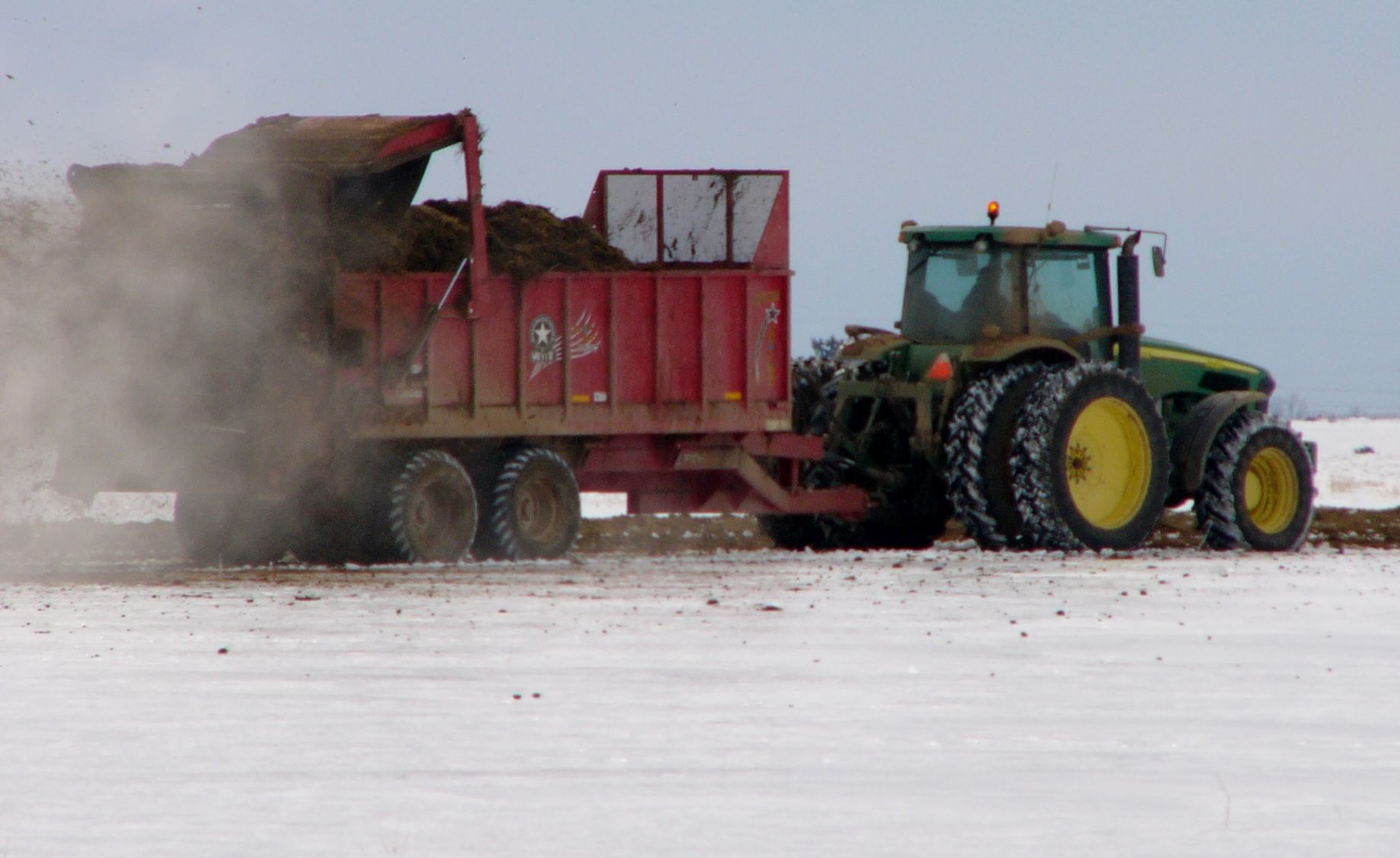 In 2014, Connie Willett and her husband built a house on a 27-acre lot in the country between Green Lake and Ripon. They had a well dug and tested the water to make sure it was clean.
In the spring of 2016, Willett said, a farmer dumped liquid manure onto a field about half a mile from their home.
...more

Ken Notes: I am not even worried about the truckloads or the tractor loads in the photo. I am worried about the network of ten inch pipe and hoses that deliver liquid manure miles and miles from the source to fields obscure to what people can see and what DNR can detect with the sole intent of emptying the pits. This is not soil management this is equivalent to factories in the 60`s and 70`s dumping toxic waste into our waterways. These farms are lobbying heavily to remain unregulated and it is working...
---
Our commitment to preserving the quality of our environment is not just a program at Dairyland. It reflects a deeply held view that good environmental practices reflect sound operations and contribute to the overall economic and social health of the communities we serve.
...more
---
Protestors will gather every Friday at Library mall as a part of Fridays for Future
Several student environmental organizations led a climate strike demanding climate action and clean energy on campus, they also announced the formation of a new student environemtal coalition, Friday afternoon.
The organizations also distributed petitions containing three key demands– have the University of Wisconsin run on 100% renewable energy by 2050 and have 100% of UW's electricity come from renewable sources by 2030, open UW's Sustainability Advisory Council meetings to students and have a plan in place from the sustainability Advisory Council by the end of January 2021...
...more

Ken Notes: I believe the UW can lead the way. I hope as much effort is being out into research by the students as is being put into protests...
---
A report out by the Better Government Association last week should concern every Illinoisan who cares about the air we breathe and the water we drink.
The report states, among other things, that in Region 5 of the Environmental Protection Agency — Illinois, Minnesota, Wisconsin, Indiana, Michigan and Ohio — inspections for air, water and land pollution have dropped by more than 60% in the past three years. That drop is twice as big as other regions of the U.S., which average a 30% decrease in the number of inspections.
...more

Ken Notes: politics is now about money, and money comes from business. So we need business to recognize the importance of a clean environment and many of them do!
---
McMAHON provides full-service engineering and architectural services to public and private-sector clients. We are driven by a service-oriented philosophy to achieve client satisfaction on every project.
...more
---
City Will Look At Infrastructure, Operations And How Climate Change Will Affect Them
...more
---
MADISON (WKOW) -- A group of students at UW-Madison are calling on the University to commit to 100% renewable energy by 2050.
During a day of global climate action, students and community members gathered at Library Mall to strike against climate change.
Campus Leaders for Energy Action Now (CLEAN) announced a petition demanding the university transition exclusively to renewable energy by 2050, and derive all electrical power from renewable resources by 2030.
The petition also called on university leaders to open up meetings of the Sustainability Advisory Council to students of the University and come up with a plan of action from the council by the end of January 2021 to reach the energy goals...
...more

Ken Notes: On my radio show last Saturday I was talking about this and suggested we should work with the energy companies to get there by 2050. A caller suggested we should take over or "Socialize" the energy companies and make them 100% green tomorrow. While I appreciate her enthusiasm, if we are not willing to work on these issues is a somewhat reasonable manner I question whether we can get there at all...One more time, if you want to facilitate change, seek a seat at the table.
---
WGBA has combined forces with the U.S. Green Building Council (USGBC) and together we will pilot a new model for USGBC chapters and local market engagement...
...more
---
MADISON, Wis. — A bipartisan commission tasked with making recommendations on what major Wisconsin road projects should move forward met for the first time in half a decade on Friday.
The Transportation Projects Commission did not recommend any new projects at its meeting, but Wisconsin Department of Transportation Secretary Craig Thompson said it would consider new projects, and how to pay for them, at future meetings.
Gov. Tony Evers, who convened and presided over the meeting, proposed raising the gas tax by 8 cents a gallon in his state budget this year to pay for road improvements. Republicans who control the Legislature rejected that proposal, instead relying on a mixture of cash, borrowing and higher fees to pay for about $465 million road spending...
...more

Ken Notes: Yea!
---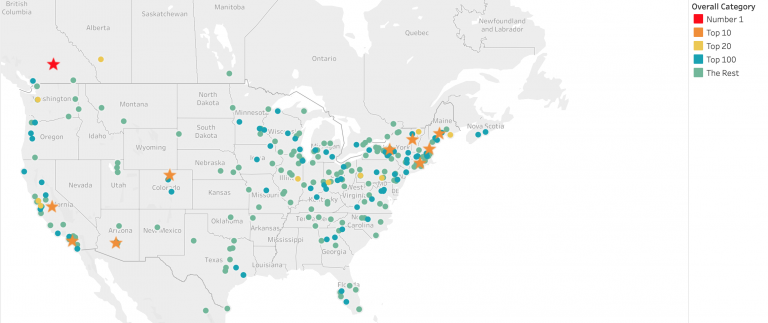 Great Lakes colleges fared well on recent separate lists from the Sierra Club magazine and the Princeton Review that ranked the top green colleges of the United States and Canada.
The Sierra Club ranked five Great Lakes colleges in its top 100 — SUNY College of Environmental Science and Forestry (#3), Grand Valley State University (#59), Michigan State University (#66), University of Michigan (#71) and University of Wisconsin-Milwaukee (#92).
...more
---
Miron specializes in providing innovative pre-construction, construction management, design-build, general construction and industrial services.
---
RIVER FALLS, Wis. — Plans call for a science and technology building at the University of Wisconsin-River Falls to be state of the art.
The proposed Science and Technology Innovation Center would include a dedicated makerspace and high-tech laboratory facilities where students and faculty would tackle projects in a building meant to foster relationships with private business
....It's a high standard and Kassem is reaching for the very top — a LEED platinum designation. Mark Klapatch, sustainability/facilities manager for the university, said that would involve analysis of the building site, construction materials and ongoing sustainability operations once it's built....
....
...more

Notes:LEED certification is a great goal but can be expensive. Remember there are dozens of ways you can make your project mor environmentally friendly. Ask your architect or construction company for ideas and the cost and return for each. Doing nothing is the worst sin here....
---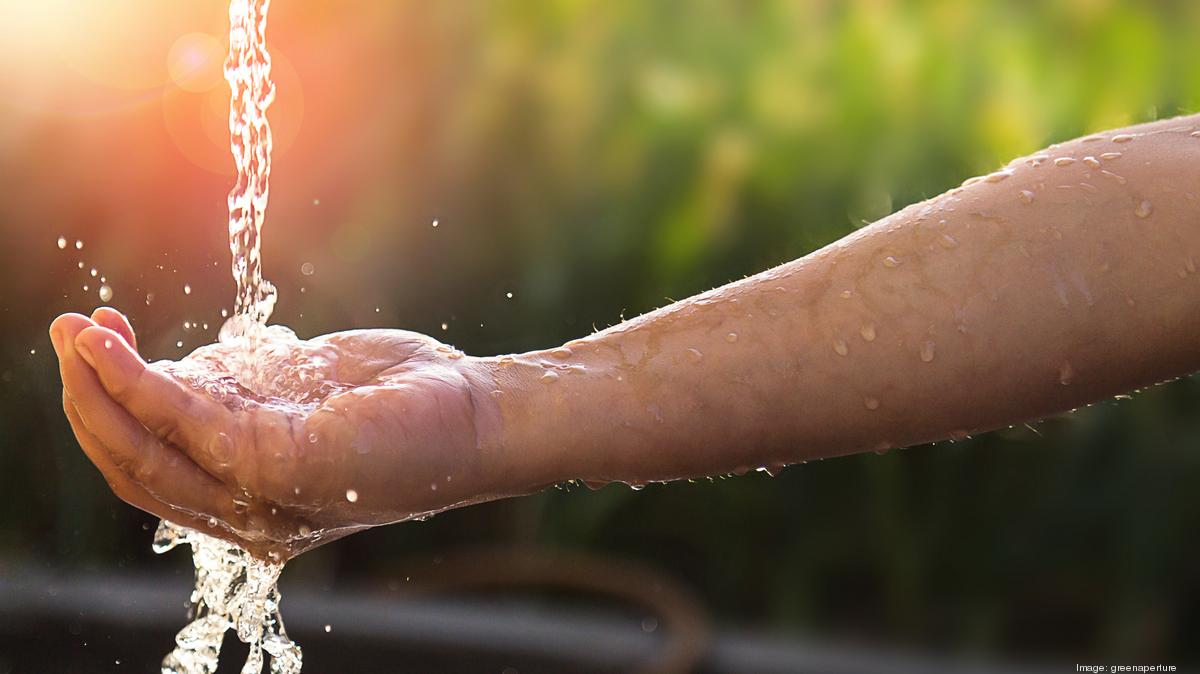 Aqua Innovation`s nutrient concentration system technology reclaims water and other nutrients from raw cow manure while eliminating pathogens.
You may find this article behind a paywall, but the website for the company is here:
...more
---

The WI Sustainable Business Council is a network of Wisconsin businesses and organizations that are interested in, or actively responding to, the challenge of sustainability.
---

Ken Notes: look at the LA auto story if nothing else...
---
Links we like supporting Wisconsin`s Environment and Business. More will follow each week...
...more
Ken Notes: Share this and if you want to be included:
Call us - 608.334.2174 or Editor [at] WDNGreen.com....
---
Milwaukee now averages a mere 2.4 combined sewer overflows a year, thanks to a massive underground tunnel, green infrastructure, and flood-control measures.
"Sewer socialists" was a pejorative label applied to the leftists who governed Milwaukee during the early 20th century and often boasted about their achievements in sanitation. One hundred years later, the city's sewerage system is a source of pride again. Joel Brammier, the executive director of the Alliance for the Great Lakes, has hailed the "astounding" performance of the Milwaukee Metropolitan Sewerage District (MMSD) at stopping overflows, while Adam Krantz, CEO of the National Association of Clean Water Agencies, described the leadership of MMSD Executive Director Kevin Shafer as "the gold standard."...
...more

Ken Notes: It is an impressive system. Good read...
---
We try to include links to help you consider your GREEN economic development options in Wisconsin. Businesses feel free to send us your information here.
...more
Ken Notes: Feel free to include this link and logo on your website. Our Tools and Resources are always a
click
away. Also a new easy to use address:
www.WDNGreen.com/tools/
---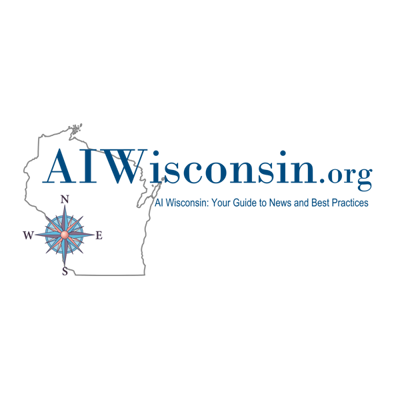 Ten thousand of environmentally minded business professionals, 500+ News outlets and reporters, and even a treehugger or two now read WDNGreen each week. Thank you!
Please
share WDNGreen with a friend
...
WDNGreen Network of Links
... or
Search WDNGreen
...
Ken Harwood
Advocating for Wisconsin
Editor [at] KenHarwood.com
608.334.2174
...more
---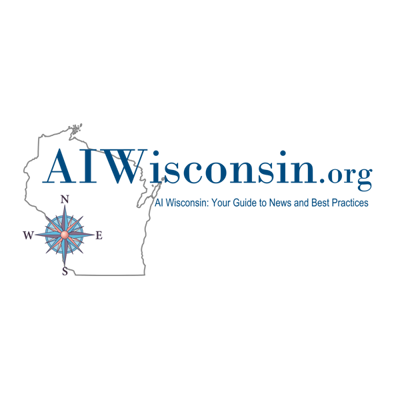 An agenda for the new administration...
An overriding principal - Restore Wisconsin to the bipartisan national environmental leadership it once enjoyed...
Building and Design

Work with developers, architects, communities, and business to ensure the highest and most cost effective Green building practices are used in new development.

Expedite projects who guarantee the best environmental practices and make sure the systems are in place to ensure this. Trust but Verify.
Avoid costly mandates and restrictions that will move businesses to other states or regions.

Mining

Explore the restoration of the sulfide mining moratorium or...

Work with counties to create and enforce new mining regulations, restrictions and enforcement.

Delay approval of any new mines until counties have their regulation policies in place.
Restore DNR environmental staff and expertise to levels that can review any requests in a timely manner.
Require a site reclamation fund be established from the onset of any approved project with a plan in place for complete site reclamation.
Allow municipalities to enact special utilities in lieu of or in addition to regular taxes for issues like impact on roads, utilities, infrastructure, and public safety.


Renewable Energy and Fuels

Work with the utilities, business and communities to encourage the use of renewables, reduced carbon output, and better reporting and measurement.
Establish a PSC willing to work with business and power companies while progressing to a lower carbon renewable future.

Do not impose legislative mandates on renewables but rather incentivize use of new technologies while maintaining an open dialogue among all parties involved.


Our Watersheds and the Great Lakes

Become a strong partner in Great Lakes–St. Lawrence River Basin Water Resources Compact.
If water is removed from the watershed, require that it be returned cleaner that it was taken. Again make sure DNR has the resources to monitor and ensure this policy.


Land Use and Transmission / Pipe Lines

Require the need and or profit for new systems to Wisconsin citizens. If a system like tar sand or electricity is for other states or regions, require that the land uses benefits all citizens in our state in lower utility costs, additions public facilities and reduced air and water pollution.
Require that any new system create an environmental offset equal to or greater than the land they take. This can be done in two ways: One additional Parks, Public Lands, Trails, Access to Waterways, Etc. OR Two reduced carbon emissions through the elimination or older less efficient production facilities or the conversion to renewable or exponentially lower emission fuels.


CAFO`s and Agricultural Issues

Address and regulate CAFO`s like the "cities" that they are.

Develop regulations and controls to address the scale of effluent that these facilities produce.
Consider using CAFO`s as a model for new waste treatment like digestion and pasteurization.

Preserve the small farm in Wisconsin by encouraging sound environmental practices in a cost effective way.

Work with all farms, businesses, and communities to improve watersheds, runoff and source point pollution focusing on results rather that penalties or mandates.


Transit and Mass Transit

Improve our transit and shipping corridors like rail and interstate access to encourage Wisconsin to become an efficient distribution hub for the Midwest.
Encourage communities to adopt new and more efficient mass transit systems.
Encourage the use of more efficient buses, trucks and vehicles in the state.


ECO Tourism

Explore ECO Tourism as an option to preserve our vast agricultural heritage and natural waterways and woodlands.
Allow ECO TIF financing to pair tourism development with land and watershed preservation.

...more

Ken Notes: Just a few ideas, please feel free to pick and choose then share with those on both sides of the isle that will be making decisions.

We now have an opportunity to grab the pendulum in the middle and make a real long term difference in how we manage our resources and what kind of Wisconsin we leave to our grandchildren!

These are personal viewpoints shaped by your feedback. They are not the positions of my sponsors or partners.
---
Coverage of local and national eco news for commercial development, home, transportation, food and community. We search for environmentally friendly news that makes economic sense for Wisconsin.
ONLINE HERE
. Please share with a friend. To receive WDNews GREEN on Monday of each week as an email you must subscribe -
secure link to subscribe is here
.
Want to comment, or have an idea:
Ideas[at]WisconsinDevelopment.com
We may now need to build a coalition that is willing to lobby from a "greener" yet pro business perspective. Lots of HUGE issues: Sand Mining, CNG, LEED Alternatives, Focus On Energy, LED Lighting R&D, Cleaner Power Generation, Recycling, Power Lines, Electric Cars, Wind, Solar, Bio Fuels, Digestors, Green AG, Business Incentives...And of course the Greenest and Happiest of Holidays to you!
Please consider sponsoring WDNGreen!
WDNews GREEN will be emailed on Mondays, included in WDNews on Thursdays, and online all the time at: WDNGreen.com Each week we will find 10 to 20 articles from Wisconsin and across the Nation dealing with environmental issues. Our goal is to promote environmental excellence from a sound business perspective.
Our resource guide at the bottom of this publication will continue to grow, and you may add links, suggest articles, include your press releases, or comment by
eMailing Me
. As always thanks for reading, and if you would like to sponsor or get involved call 608.334.2174...
...more
Ken Notes: Please forward this to friends and colleagues who have an interest in our economy and environment.
You may eMail Me Here
.
---
Each week Ken will review economic development, job creation, environmental trends, and social issues in the Wisconsin. He will try to discuss issues from a sound business perspective and he will encourage his guests to do the same. He will offer alternative solutions from experts, pundits, and politicians, and then examine the economic realities behind them.

Ken notes, "The idea is simple, if we can discuss problems and solutions without pointing fingers or calling each other names we may get Wisconsin back on track, because it has damn sure derailed over the years".
Ken brings decades of political experience and journalism to the table and will call on a long list of friends, colleagues, and associates to address ideas, solutions and funding on hundreds of issues facing Wisconsin today.
Listen Live Saturday fron 10AM until Noon
On 92.7 FM Madison or 1510 AM Milwaukee
...more