---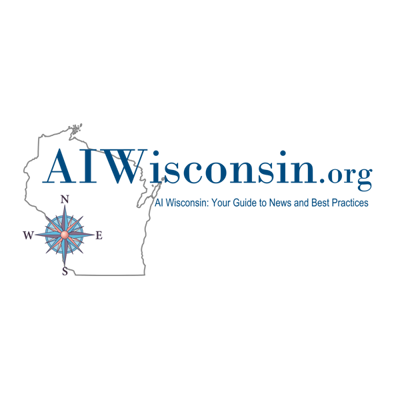 Ten thousand of environmentally minded business professionals, 500+ News outlets and reporters, and even a treehugger or two now read WDNGreen each week. Thank you!
Please
share WDNGreen with a friend
...
WDNGreen Network of Links
... or
Search WDNGreen
...
Ken Harwood
Advocating for Wisconsin
Editor [at] KenHarwood.com
608.334.2174
...more
---

Madison, WI – On Saturday, September 29th, RENEW Wisconsin will host its 6th annual "Ride with RENEW" bicycle tour of renewable energy projects, with this year's ride taking place in Milwaukee, WI. All event proceeds support RENEW Wisconsin's ongoing work to advance renewable energy in Wisconsin.
Riders will travel approximately 25 miles on paved roads and bike paths to visit innovative wind, solar, geothermal, and biogas energy generation facilities in Milwaukee. The total tour time will be approximately 6 hours (including stops at renewable energy sites) and actual riding time will be 2 to 3 hours.
Participants will get an inside look at some of the area's leading renewable energy projects and will enjoy breakfast, lunch, and beverages along the way. They will visit with installers and workers who are advancing renewable energy every day, and hear from customers about why clean energy works for their pocketbooks and their businesses.
The day's tour will include:
School Sisters of Saint Francis
Potawatomi Biodigester
...more

Ken Notes: Tyler this sound like a great day...
---
La Farge, Wis.
– Organic Valley, America's largest cooperative of organic farmers and a leading organic brand, today announced details of the first-of-its-kind community solar partnership launched last year. The project enables Organic Valley to share the benefits of solar energy with its rural neighbors and become the largest food company in the world to be 100 percent renewably powered.
In October 2017, Organic Valley ambitiously committed to achieve 100 percent renewable power at its corporate facilities. Since pioneering this new model of community solar development, Organic Valley has unlocked solar beyond its needs....
...more

Ken Notes: WOW!!!!
---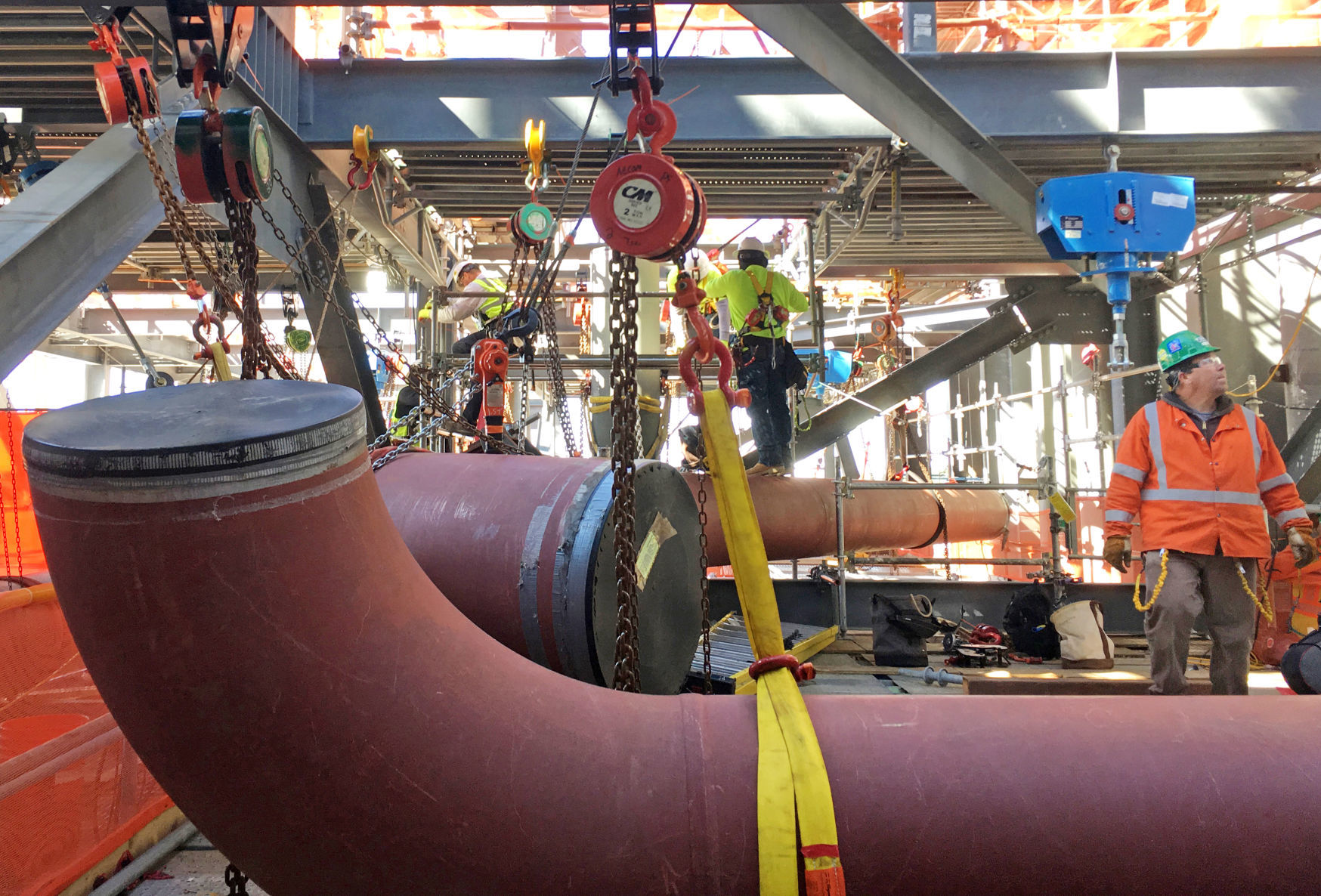 TOWN OF BELOIT — With construction on a $700 million natural gas plant halfway done, Alliant Energy has shut down one of its largest coal-fired generators.
Friday marked the final day for Edgewater 4, a 49-year-old plant in Sheboygan that last year burned almost 950,000 tons of Wyoming coal, generating enough electricity to power about 200,000 average Wisconsin homes. It's the third coal plant that Alliant has shut down since 2015.
The replacement, a 725-megawatt addition to Alliant's Rock River campus in the town of Beloit, is on track to begin operation in 2020...
...Alliant says West Riverside will generate about half the carbon dioxide as a similar-sized coal plant, while emitting 99 percent less sulfur and virtually no mercury, pollutants that require expensive equipment to remove...
...more

Ken Notes: Natural gas is still a carbon based product and the size of these investments means they are here for a while. Fracking has of course made domestic natural gas very affordable and cost effective. Not to mention the years of capacity available.

I like the fact that these new systems fit in with truly renewable energy by providing co-gen capacity to make solar and wind viable mainstream resources. Now we need to find ways to decommission or convert the rest of the coal plants which still provide the majority of energy in the state.
---
A report released this week by a United Nations panel on climate change says steps must be taken soon to avoid more severe heat, drought and flooding as temperatures around the globe rise. Local governments in Wisconsin are looking at ways to address and adapt to climate change as President Donald Trump has backed away from pledges to reduce greenhouse gas emissions.
In the report, researchers say carbon dioxide emissions need to be cut almost in half from 2010 levels in the next 12 years to limit the worst effects of climate change and environmental damage...
...more

Ken Notes: The solution will be to work with the power companies. Communities have land and buildings that these power companies need to build infrastructure and collection facilities. This will facilitate larger and more efficient collection and distribution.
---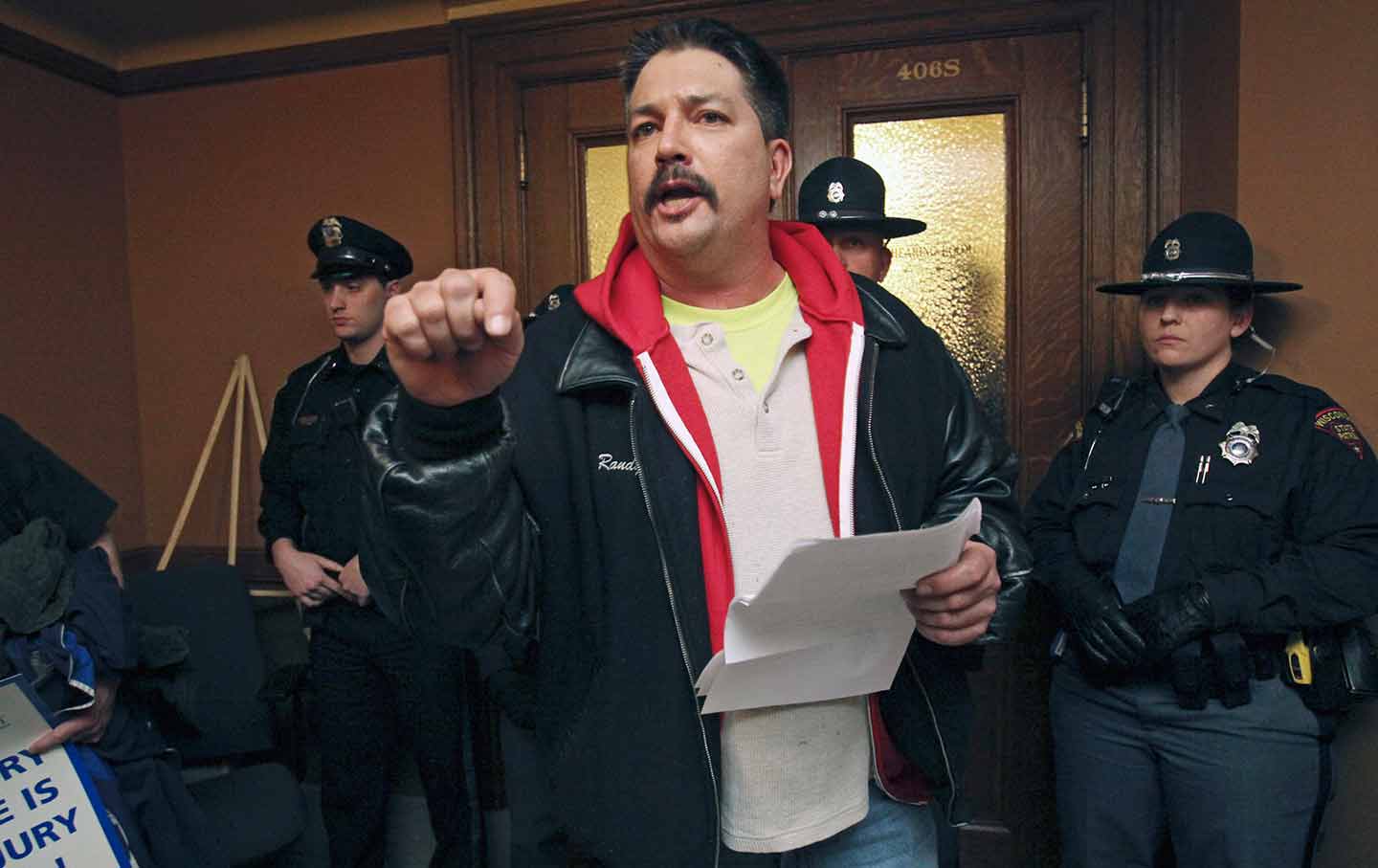 Energized Democrats are learning from their activist base that a sustainable and just environmental plan is not only good policy, it's good politics.
As government leaders, environmental experts, and concerned citizens from around the world gathered last week in San Francisco at the Global Climate Action Summit, a message has emerged from progressive activists: Action on climate change is about more than just power plants or temperature goals. The climate movement has become a powerful political force, with tens of thousands of people from across America's largest cities and smallest communities calling for an end to the unsustainable use of fossil fuels—but now the call includes plans that create jobs and address the possible disproportionate effects on marginal and at-risk communities. Progressive politicians are following their lead, increasingly realizing that the only way to equitably meet the challenge of a clean-energy revolution is a 21st-century economy that guarantees clean air and water, modernizes national infrastructure, and creates high-quality jobs.
...more

Ken Notes: Here is why the political arena will screw this up! There is a potential green, environmentally friendly, economically viable, business friendly economy out there. But my belief is that political forces on both sides will listen to the small but loud groups advocating on the fringe and ignore the middle where Nirvana actually exists. On one side mandates and penalties will alienate business on the other deregulation and lack of enforcement will alienate those advocating for the environment. This will result in us yoyoing our way into the future.

There is good news, businesses and energy producers are realizing that new technologies are making energy efficiency and sustainability good for their bottom line. If government could step back or even better yet facilitate growth in these new technologies we would see real progress and even a sustainable future. Alas that has not been our track record and while I will jump up and down and continue to point out that compromise will move us forward I see a yoyoing future for some time to come. Let me know why I am wrong...
---
In 2014, Matthew Cooper had what many newly minted faculty scientists dream of: his own laboratory and a generous start-up package at a public research university. Then he heard about an opening at a liberal-arts college in rural northern Wisconsin and decided to give it all up.

Today, Cooper is an assistant professor of biology and natural resources at Northland College, where he has helped build a freshwater-research program staffed almost exclusively by undergraduates. He was drawn by the opportunity to work with students whose scientific careers are just starting, and by the lure of Lake Superior. Both he and his wife grew up on Lake Michigan and wanted to raise their children in a similar environment...
...more

Ken Notes: Great read! Matt sent me a pdf of the article at the link...
---
ST. PAUL, Minn. (AP) — Enbridge Energy has urged Minnesota regulators to stand by their decision to approve its proposal for replacing its aging Line 3 crude oil pipeline across northern Minnesota.
The Calgary, Alberta-based company said in a filing Monday that the Public Utilities Commission should deny petitions for reconsideration filed earlier by environmental and tribal groups and the state Commerce Department. Enbridge says the commission`s approval complies with the law and is supported by the record.
Several commissioners cited Line 3`s deteriorating condition when they approved the replacement this summer. Tribal and environmentalist opponents say the project threatens pristine areas and vow mass protests to block it...
See Also:
On Oct. 3, 2018, Enbridge entered into a second agreement with the State of Michigan on the future of Enbridge`s Line 5 light oil and natural gas liquids (NGL) pipeline at the Straits of Mackinac.
Under the agreement, Enbridge has committed to a range of measures to protect the Straits of Mackinac and the Great Lakes—including exploring with the State a new pipeline in a tunnel deep under the Straits.
The agreement protects the waters of the Straits and the Great Lakes in several ways, and makes a safe pipeline even safer....
...more

Ken Notes: This is simple, Time is money so if Enbridge wants to eliminate delays associated with reopening issues in the approval process they should be willing to make written commitments on improved environmental considerations and offsets that benefit the public like trails, land preservation, spill insurance and more. If not the tribes and groups need to be herd and that will take time... and money...


---

WGBA has combined forces with the U.S. Green Building Council (USGBC) and together we will pilot a new model for USGBC chapters and local market engagement...
---
Organic Valley Goal To Become Solely Powered By Renewable Energy Leads To New Access To Solar Power For Rural Communities.
Ten communities in Wisconsin will be purchasing power through a new solar energy partnership with Organic Valley.
The farmer cooperative first announced the community solar partnership with the Upper Midwest Municipal Energy Group and OneEnergy Renewables last fall. Organic Valley plans to purchase around 12 megawatts of power through the partnership in order to become powered solely by renewable sources....
...more
---
There`s a wild wood turtle named Sarge in the Driftless Area, a poster-critter candidate for efforts to protect the Endangered Species Act from changes being proposed by the Trump administration.
He was named by the people who found him on their property along one of the state`s premier cold-water trout streams...
...The biggest threat to wood turtles, according to environmental agency websites, is fragmentation and destruction of habitat. So a key conservation goal is maintaining a buffer strip of natural vegetation (minimum of 100 feet) along the banks of streams and rivers to protect wood turtle habitat. That will also help improve the water quality of the stream. But that can impose unpopular restrictions on development or agriculture along the streams. Hence there is economic pressure to reduce restrictions associated with endangered species protections. The same dynamic is true in proposals for protection of other species. The fight over protections for the greater sage grouse that affect energy projects come to mind....
...more

Ken Notes: Wouldn`t it be cool if we could get a buffer strip along all our streams and rivers. Even a few feet would help. No mow, no crop, some low impact trails, and runoff management encouraged.
---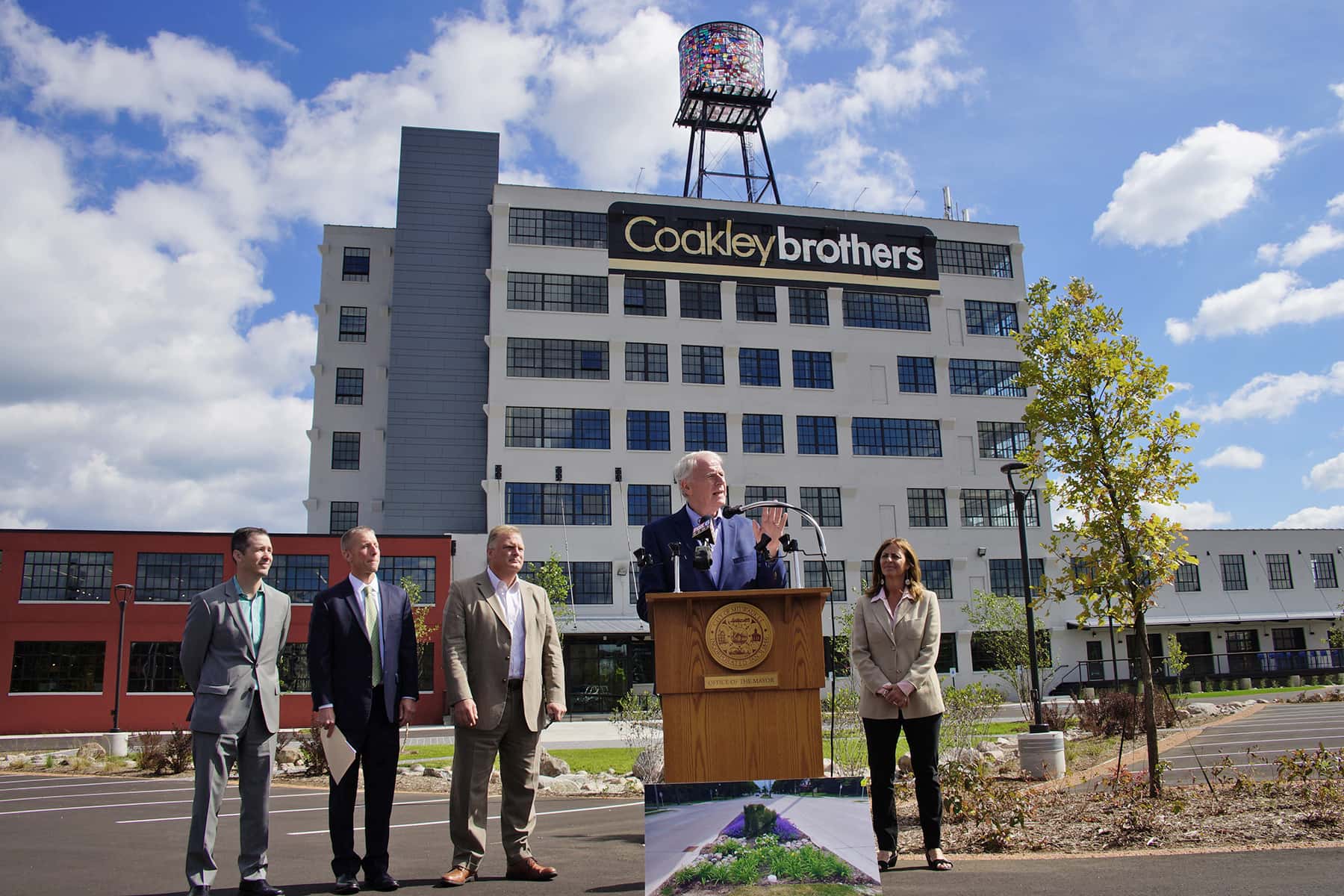 Mayor Barrett announced the City's Green Infrastructure Plan Framework to add functional greenspace to Milwaukee streets, schools, and parking lots on September 26.
The Mayor made the announcement at Brothers Business Interiors at 400 S. 5th Street in Milwaukee. That building has undergone a major restoration and added green infrastructure to its parking lot with support from the Milwaukee Metropolitan Sewerage District and the City of Milwaukee. These improvements support a vibrant urban environment around Milwaukee's 6th Street roundabout...
...

Under a resolution (File # 180527) and ordinance (File #180803) adopted by the Common Council on Tuesday and sponsored by Aldermen Nik Kovac, Terry Witkowski, and Cavalier Johnson, all large redevelopment projects will be required to install green infrastructure to capture at least the first 1?2" of rainfall on the site. The Plan also provides additional funds in 2019 to work with Milwaukee Public Schools to remove pavement and add functional greenspace to 4 to 5 schools per year. Funds will also support adding green features to public and private parking lots throughout the City....
...more

Ken Notes: Great read, Great Idea! I may have mentioned that now we need to work with these businesses to continue moving forward....
---
More pollution may be coming to Illinois from Wisconsin, and Illinois Attorney General Lisa Madigan joined by the City of Chicago, has filed a lawsuit to stop it.
Robert Kaplan, who then served as acting regional administrator for the Federal Environmental Protection Agency's (EPA) Region 5, which includes Illinois and other states within the Great Lakes region, on Dec. 20, 2017, wrote a letter informing Wisconsin Governor Scott Walker that Kaplan's agency intended to give Wisconsin's Racine County the "non-attainment" designation for not meeting air quality standards.
Taipei, Taiwan-based Foxconn Technology Group plans to build its new manufacturing and technology campus in Racine County. While the EPA non-attainment designation would not have prevented Foxconn from building the facility, it would have required the company to install more stringent and thus more expensive air pollution controls. According to the letter, the State of Wisconsin recommended the county get the "attainment" designation, which permits less stringent pollution controls; based on air quality data, the EPA decided against it.
...more

Ken Notes: Wow not really fair, and I am an environmentalist! The plant is not built yet and so far they have made commitments to protect the watershed and air quality in exchange for an expedited process - so a premature lawsuit is, well premature...
---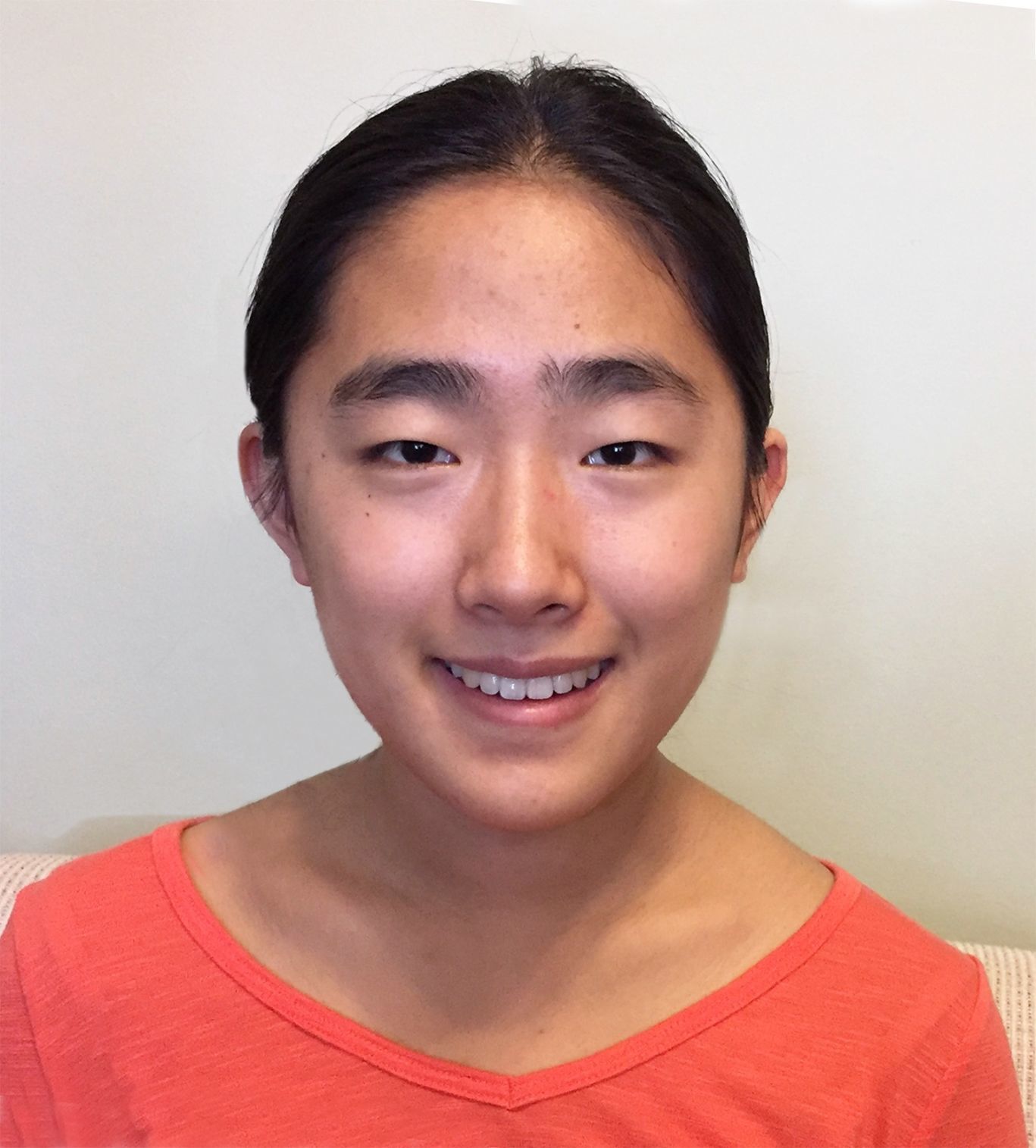 Protecting the environment didn't used to be a polarizing issue for the American public or elected officials.
In 1970, 20 million people across the United States celebrated the first Earth Day. U.S. Sen. Gaylord Nelson, who also had served as Wisconsin governor and a state senator, created Earth Day with the hope that a nationwide demonstration of concern would bring environmental problems to the attention of legislators. Nelson, a Democrat, recognizing the importance of bipartisanship on such an important subject, recruited Republican Congressman Pete McCloskey to co-chair Earth Day....
...more

Ken Notes: Great read and I agree, in fact I challenge leaders of any party to assume a "pro future" role in protecting our environment.
---
Chinese ban may impact the cost of environmentalism in Wisconsin
Besides protecting the environment by saving energy, slowing climate change and reducing pollution, recycling saves money. In Milwaukee, recycling prevented more than $1 million in landfill disposal costs in 2017, and it earned nearly $1.9 million in revenues, which almost offset curbside collection costs, according to Rick Meyers, sanitation services manager for the City of Milwaukee...
....Recycling one ton of glass saves the equivalent of 10 gallons of oil, while recycling one ton of aluminum saves the equivalent of 2,350 gallons of oil....
...In early 2018, China stopped taking foreign recyclables, upsetting world markets. "We're in the middle of an interesting time in our industry," says Analiese Smith, solid waste supervisor for Waukesha County. "On a global scale, China, which imported a lot of recyclables, has had growing problems with contaminated recyclables. Some of our fellow recyclers, especially on the coasts, exported a lot of their material to China. Now that that has been turned off, they are looking for other places to process their recyclables."...
...more

Ken Notes: I worked on recycling legislation for the state and I promise this is a much larger issue that anyone wants to admit. The key word in the above paragraph is almost. In the best of systems recycling is a losing proposition financially. We can tip the scales by working with other countries, processing materials stateside, focusing on the most recyclable items, regional approaches, and considering a packaging tax. Not easy. Not popular. Not fixable in a sound bite or a tweet...
---
Ten years ago, no one would have predicted that the price of solar energy would drop 75 to 85 percent, or wind energy 66 percent?—?suddenly making solar and wind cheaper than coal when utilities need to purchase more power. Or that Dane County's government operations would stumble into "100 percent renewable energy"?—?creating more energy than the county is pulling from the grid?—?due in large part to harnessing the county landfill's methane to produce natural gas. In 2017, Madison became the first Wisconsin city (and the 25th in the nation) to formally commit to 100 percent renewable energy, and now groups such as the city's Sustainable Madison Committee and Dane County's Council on Climate Change are working with consultants, utilities, businesses, nonprofits and citizens to go completely green. According to those involved, this is not some utopian liberal Madison goal?—?it makes the most fiscal sense for taxpayers and the timing has never been better...

...more

Ken Notes: I actually did predict lower prices ahead ten years ago because I came from the tech industry and saw it happen there. Now like the tech industry we need to incorporate renewable into our everyday lives..
---
Miron specializes in providing innovative pre-construction, construction management, design-build, general construction and industrial services.
---
Focusing on reducing their carbon footprint, Emmi Roth, a Fitchburg, Wis., specialty cheese operation, will add 1,600 solar panels to its Platteville, Wis., plant.
Focusing on reducing their carbon footprint, Emmi Roth, a Fitchburg, Wis., specialty cheese operation, will add 1,600 solar panels to its Platteville, Wis., plant.
Installed on the roof of the facility, the panels will supply 15% of the electricity and will reduce the company's carbon footprint by eliminating 14,000 tons of carbon dioxide emissions from the environment. That is equal to saving 1.4 million gallons of gas, recycling 43,000 tons of waste or reducing coal usage by 13 million pounds, according to Emmi Roth....
...more

Ken Notes: and they make a great product!!!!
---
Craft beer fans seeking different flavors are accustomed to hitting the road to taste offerings from breweries both near and far from home. Special releases of new and limited-run creations are a big draw, but so too are the breweries.
As the craft beer industry has blossomed over the past decade, so have options for such visits.
The Brewers Association, a national trade association for craft beer-related businesses, reported that in 2017, craft consumers visited three-and-a-half breweries near their homes and two-and-a-half breweries within two hours` driving distance on average...
...more

Ken Notes: We need to realize that tourism is good for the environment. Buy creating an economy that depends on visitors leaving cash we can reduce and economy that derives income from selling sand or ore. Just a thought...
---
Surface and underground mining technology firm Komatsu Mining Corp. plans to invest $285 million to construct a new 2.5 million-sq-ft campus near Milwaukee, WI that will house the company's headquarters and manufacturing assets.
The site in Milwaukee's Harbor District will serve as a large machining, heavy fabrication, and engineering center of excellence for P&H mining shovels and drills, according to a company press release issued Thursday. About 170,000 sq ft of office space and 410,000 sq ft of manufacturing space will be constructed on the 54-acre site, an announcement by the Wisconsin Economic Development Corporation (WEDC) said.

...more

Ken Notes: I am afraid this singles a future expansion of mining world wide and Wisconsin has a lot of ore just sitting there....
---
The U.S. Environmental Protection Agency is conducting a criminal investigation into a chain of industrial barrel refurbishing plants in Wisconsin, a whistleblower in the case has disclosed in court filings.
Will Kramer, who was a contractor examining safety in the plants before he went public with concerns about what he witnessed, wrote in court documents that he has been in contact with agents from the EPA`s Criminal Investigation Division since March 2017...
...more

Ken Notes: I am most concerned about the intent in this case, I believe in this case the abuse may have been known and ignored. I really wish we would shift gears and prosecute those who intentionally chose to harm the environment rather that penalize those who can demonstrate those who did not know better at the time. In both cases we need to clean up and do far better moving forward.
---
MADISON (WKOW) — Dane County Executive Joe Parisi spoke on Saturday at an event that discussed the progress the city, county and state have made when it comes to renewable energy.
"What's Working in Wisconsin: Public and Private Uses of Renewable Energy" took place at Good Shepherd Lutheran Church in Madison. 27 Storm Track Chief Meteorologist Bob Lindmeier moderated the discussion.
The free event highlighted progress made in our area and encouraged people to continue to do their part in their own homes....
...more

Ken Notes: L had a chance to address a class at the Nelson Institute last week as well. Thanks to these future leaders - we are in good hands...
---
MILWAUKEE (AP) — Wisconsin Attorney General Brad Schimel investigated a former assistant attorney general after he made critical remarks in a newspaper story, the Milwaukee Journal Sentinel reported Thursday.
The newspaper reported that Schimel`s office was looking into whether Thomas Dawson provided confidential information to the Journal Sentinel about a deal the state Department of Justice struck with a polluter.
Thomas Dawson was the state`s top environmental lawyer before retiring in 2017. Dawson told the Journal Sentinel that he provided his opinion and no documents when he spoke to a newspaper reporter after he notified the agency he was retiring but while his unpaid vacation time was still being paid...
...more

Ken Notes: This should NOT be a political issues and we should know exactly what happened. That said I like the idea of getting companies to clean up their act moving forward rather that punitive actions in hindsight. I believe with this approach we can get more done by asking offenders to go beyond what they have to do...
---
Energy company's plan would boost use of renewables
Xcel Energy plans to offer a new program that would allow its Wisconsin customers the choice to get their energy exclusively from wind and solar resources.
The company has submitted a proposal for a program called Renewable*Connect in a filing with the Public Service Commission of Wisconsin. Xcel would like to have the program approved by Dec. 15 and launch it early next year...
...more

Ken Notes: I am not a big fan of these programs because they suggest solar and wind are more expensive and do little to work together to improve the grid. I like the corporate and community approaches far more.
---
Follow the fertilizer.
One of the suspected culprits of the toxic algae blooms that have plagued south Florida waterways since June can be traced to farms and groves, lawns and golf courses, landscaping and Orlando theme parks. Even local governments may be feeding the blooms. Septic tank leakage has factored as well.
And, environmental experts said, climate change behind fiercer storms and increased heat can bear some blame.
But the trail to the truth, like the polluted water itself, appears murky....
....."Farmers are not necessarily against that," Carpenter said of using fertilizer wisely. "We have some groups here in Wisconsin who are really interested in managing their farms to protect the water. It doesn't have to be a big political fight. It becomes more an issue of how we mobilize the farmers so they can make the money still, and we lower the phosphorous levels to protect the water....
...more

Ken Notes: Are you reading this, "mobilize the farmers so they can make the money still, and we lower the phosphorous levels to protect the water."

Also can I point out that we we digested and heated effluent we would have a wealth of fertilizer that is stable and far more manageable not to mention cheaper....
---
Since 2010, Menasha Corp. has set and achieved goals to cut its overall water use.
While its staff and geographic footprint doubled in size, the company reduced water used per ton of production by 90 percent.
Menasha Corp. is the recipient of the 2018 Deloitte Wisconsin 75 Distinguished Performer for Sustainability Award. The award is for a "green" corporation that balances economic growth, social equity and environmental management.
The company, headquartered in Neenah, has two lines of business: one in corrugated packaging and merchandising, Menasha Packaging Company, and another in reusable plastic packaging, ORBIS Corp.
In all, Menasha Corp. made $2 billion in net sales last year. The company has 120 facilities and more than 6,400 employees...
...more

Ken Notes: Menasha Corp is an example of a company that is trying to do good things for the environment and the community. This said many groups will continue to label them as the enemy for being a PRP in the PCB issue. This is wrong and we should reach out to companies like MC and thank them for their positive economic impact, jobs and in this case commitment to the environment...
---
SCS - At the forefront of sustainable environmental solutions for over 40 years
---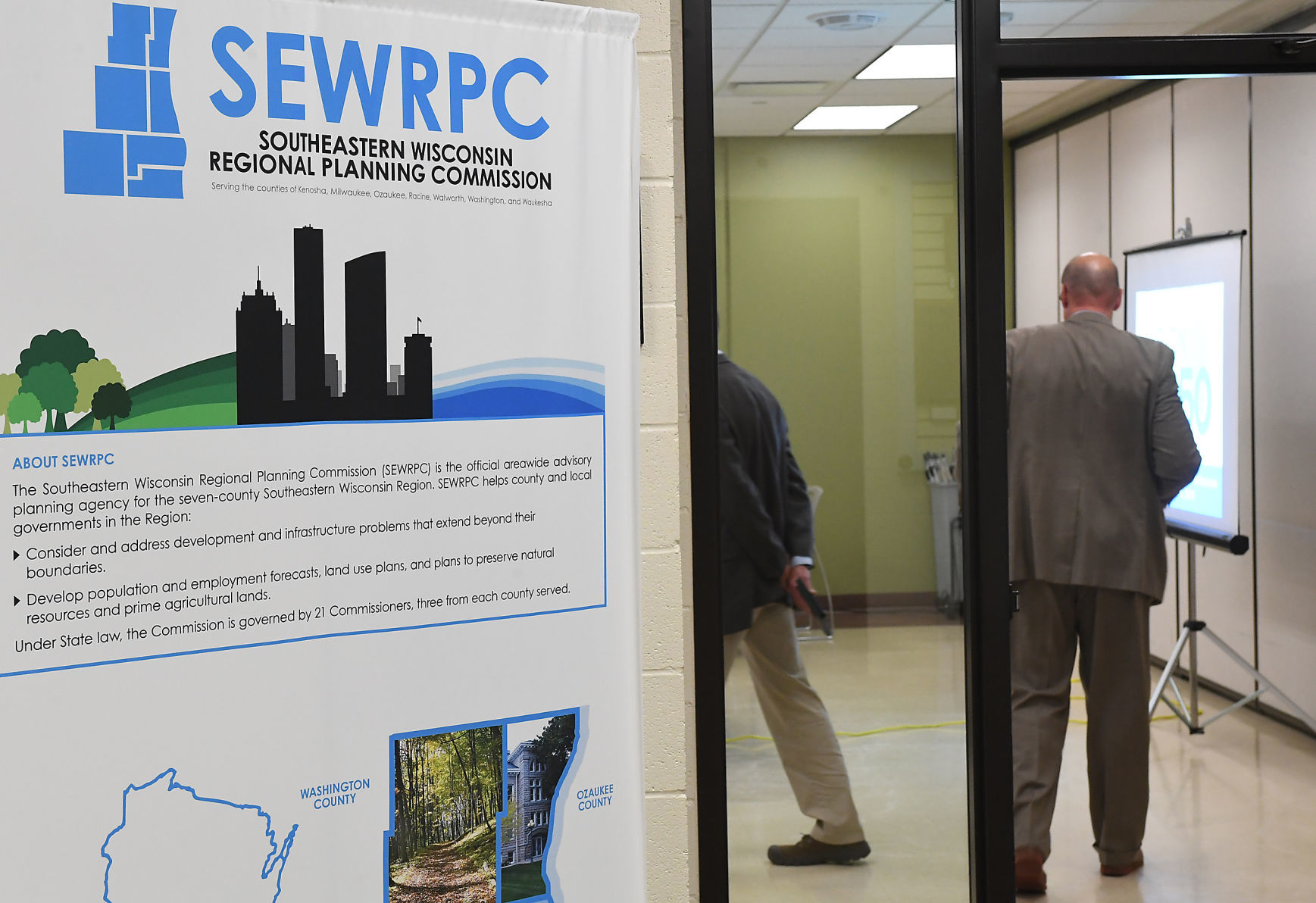 With the arrival of Foxconn to southeast Wisconsin, regional planners are working to update an advisory growth and development plan adopted just two years ago.
Foxconn wasn't yet on the radar when the Southeast Wisconsin Regional Planning Commission — whose seven-county region includes Milwaukee, Racine and Kenosha counties — finalized "Vision 2050," a long-range plan for land use development and transportation in the region....
...more

Ken Notes: I would love to see multi-jurisdictional plans for land use development and transportation by region across the state. These could identify and protect watersheds and environmentally sensitive lands add address potential larger projects that would require support from more than one community. I would point to the landfill plan in the Fox valley that shares land fill sites across the region as a good example of working together. Regional efforts can be very good for the environment.
---
MADISON, Wis. (WSAW) -- Two Madison law firms are taking on a farm on behalf of residents in Juneau and Wood Counties living with contaminated water.
Dozens of people living near large farms, in particular the Wysocki Gold Sands Dairy, found nitrate levels three to five times beyond Wisconsin`s legal undrinkable limit in their private wells.
These wells and other area sites were tested by both Wood and Juneau county health departments, UW-Stevens Point`s environmental department, and the Environmental Protection Agency.
Madison law firms, Habush Habush & Rottier, S.C., and Pines Bach LLP did not specify which farm they were taking on, but indicated it as a concentrated animal feed operation (CAFO), meaning a large animal farm.
...more

Ken Notes: I see the winners here being the law firms, too bad we could not put our efforts into requiring digestion and pasteurization of the effluent making the winner the land and citizens...
---
ALLOUEZ (WLUK) -- On a rainy day like Friday, many curbside drains around the area are flowing with storm water.
Government leaders and environmental groups in Brown County are trying to improve the quality of that water.
A 12-acre pond in Allouez is filled with run-off water from recent storms. Conservationists say storm water run-off is a major contributor to polluted rivers and lakes.
"Such as de-icing, salts, fertilizers, chemicals, heavy metals, nutrients. And it goes untreated into local waterways," said Julia Noordyk, University of Wisconsin Sea Grant Institute...
...more

Ken Notes: This issue is fascinating to me because if we point fingers we need to be pointing at ourselves. We who: mow our laws, drive cars (or take the bus), salt our sidewalks, play soccer or softball, heat our homes (regardless of fuel), and just plain live our lives are the guilty parties... We can fix this but we need to set aside the blame game and all work together. I would like to look at the MSP area and see the programs they used to clean up their lakes for example.
---
MADISON - For the past 16 years, when World Dairy Expo visitors want to learn from some of the best and most innovative dairy farms in the country, they can take virtual tours of hand-picked dairies without jeopardizing anyone's biosecurity.
This year two of those being featured are from Wisconsin. Each of the armchair tours begins with a half-hour presentation followed by time for questions with the farms' owners and managers...

...more

Ken Notes: Read this article, it makes a strong case for family run farms rather than the CAFO model that is forcing smaller farms to close. We will regret this trend in the future if we do not act now....
---
The Wisconsin Department of Agriculture, Trade and Consumer Protection (DATCP) reminds farmers who still have old pesticide products containing aldicarb are reminded that it can no longer be used in Wisconsin, and they should dispose of it properly.
Aldicarb was the active ingredient in Temik®, produced by Bayer CropScience. In 2010, Bayer and the U.S. Environmental Protection Agency agreed to slowly phase out sales and use of Temik®, prohibiting all use effective Aug. 31, 2018, according to a news release.

"We don't think anyone has used aldicarb in Wisconsin for a long time, but just in case, we want to remind farmers that they can no longer use this product," said Alyssa Foss, pesticide registration program manager with DATCP. "If anyone still has it on their premises, they should look for Clean Sweep collections in their communities or contact their county Extension or land conservation department to find out where they can dispose of it." ...

...more
---
NEENAH, Wis., Oct. 11, 2018 /PRNewswire/ -- Menasha Corporation was honored as a recipient of the Distinguished Performer Award for Sustainability as part of the Deloitte Wisconsin 75 program, an annual list that recognizes the contributions made to Wisconsin`s economy by the state`s largest privately and closely held companies. Menasha Corporation ranks #16 on the 2018 list and has been named to the top-tier list every year since the award inception in 2003.
"As a company approaching 170 years in business, we are both pleased and honored to be recognized for our responsible business practices that have contributed to our sustainability, longevity, and environmental responsibility," said Jim Kotek, president and CEO, Menasha Corporation. "We are committed to exploring new and better ways to add value for our customers and employees and in our communities. This recognition is a rewarding signal that our efforts do not go unnoticed."
...more

Ken Notes: Again Congrats!!
---
As Wisconsin's goose and duck seasons is just days away, the state`s dedicated hunters can help prevent the spread of aquatic invasive species.
To tell us how Sunrise 7 was joined by Chris Hamerla Regional Aquatic Invasive Species Coordinator for Golden Sands Resource Conservation & Development Council.
Invasive species are non-native plants, animals or organisms whose introduction causes or is likely to cause economic or environmental harm or harm to human health.
Invasive species can be transported in water, mud, on equipment and on native plants. Some invasive (faucet snails) can cause serious health problems and death to waterfowl.
Here`s what hunters need to do.
-Inspect their watercraft, trailers, ATVs, footwear, equipment (push poles, decoys, decoy anchors, decoy bags) and even dogs.
-Remove all mud, aquatic plants and animals from watercraft, trailers, ATVs, footwear and equipment before leaving the access area. Dogs should be checked over for seeds caught in their fur.
-Drain all water from boats/other watercraft (canoes, kayaks, skiffs), decoys and equipment before leaving the access area.
...more
---

The WI Sustainable Business Council is a network of Wisconsin businesses and organizations that are interested in, or actively responding to, the challenge of sustainability.
---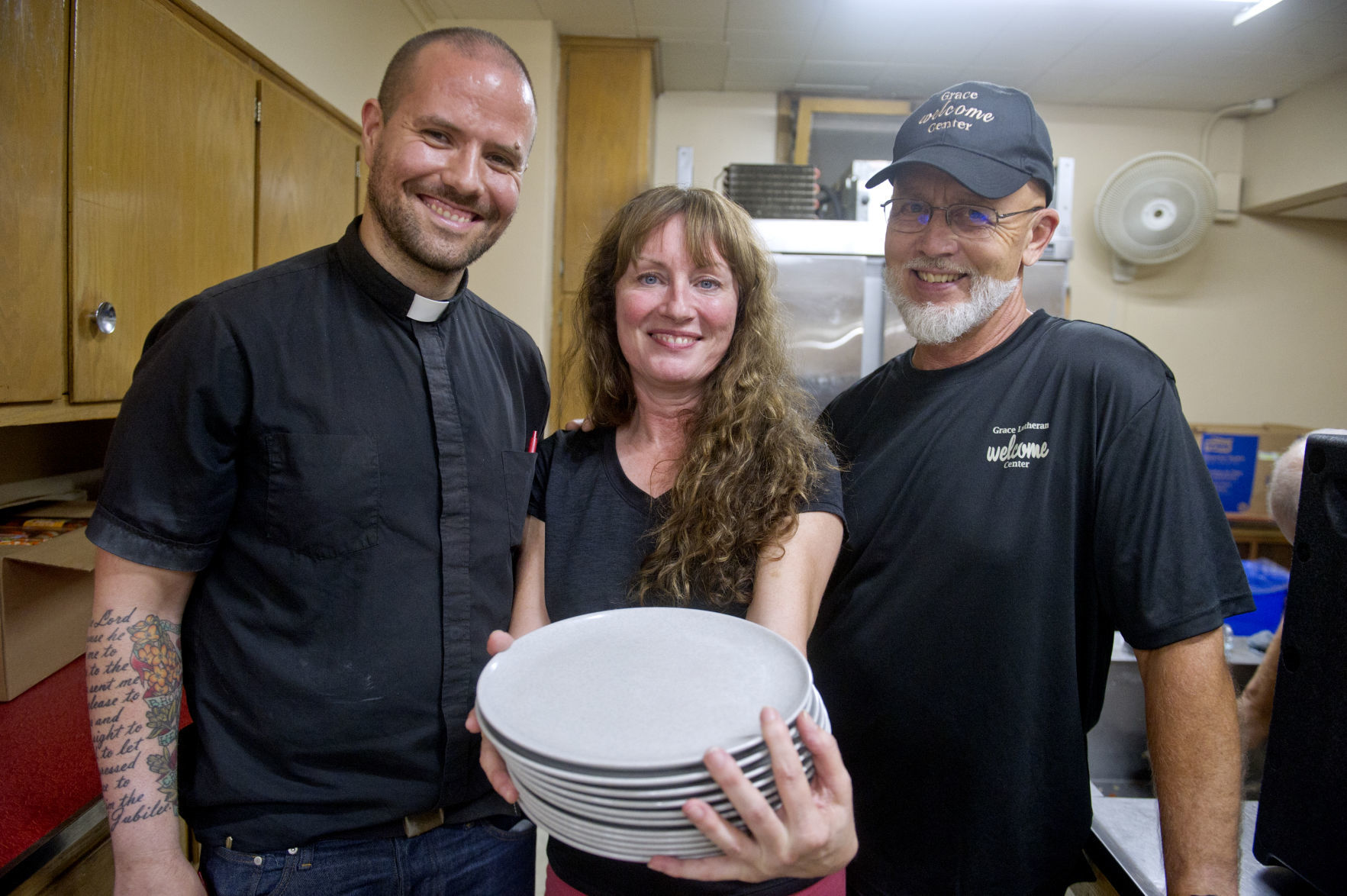 So convinced by the biblical mandate to care for the earth, the Rev. Jonathan Barker, pastor of Grace Lutheran Church, made significant changes in his personal life and adopted the practice of minimalism. Ten years ago, he removed his television to save electricity and consume less, since he would not be exposed to commercials.
"I own one pair of jeans that I wear each day except Sunday," he said. "I also became vegan because the meat industry is the largest contributor to greenhouse gasses. I bought a fully battery-operated electric car — the Nissan LEAF. Finally, my wife and I were able to put solar panels on our roof to power our car and home with sun-power."
Barker also brought his congregation into using green energy in a number of areas, such as by switching all of the lights to energy-saving LEDs, as well as incorporating washable plates for the Grace Welcome Center, the church's free community breakfast program. Grace Lutheran also uses washable trays when hosting the Soup Kitchen Network each Wednesday....
...more

Ken Notes: Wow!
---
One of Wisconsin's largest frac sand producers has idled one of its plants citing market conditions.
Hi-Crush Partners announced Wednesday that it had temporarily stopped dry plant operations at its facility in Whitehall in Trempealeau County, though the company says it will continue to run a wet plant and sell stockpiled sand at the site.
Hi-Crush did not say how many jobs were affected...
...more

Ken Notes: These mines are like investment banks the cash flow can be turned on and off at will and guarantee a sustainable long term profit. They have delivery costs associated with location and logistics is how they will thrive. We also need to note that some day in the future they will fold up the tent and leave altogether, We need to plan today for site reclamation and cleanup...
---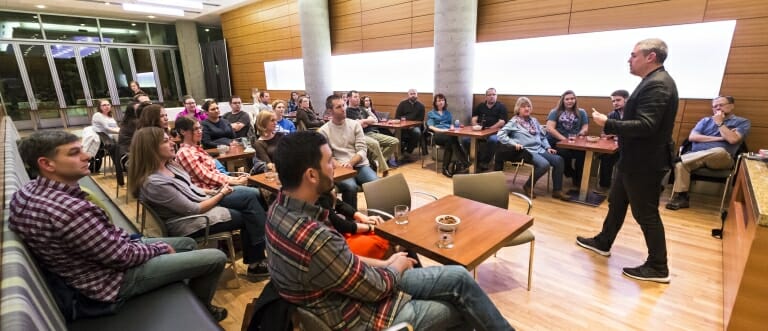 Among the hundreds of events offered around the state during the Wisconsin Science Festival, which runs Oct. 11 – 14, are four in-depth discussions in Madison on some of the most significant challenges science is addressing — and universal questions science is answering.
...more

Ken Notes: READ THIS and plan to attend!
---
Tiffany Weir, associate professor in the Colorado State University Department of Food Science and Human Nutrition, has been working on a project that has crawled into the public sphere in recent years: cricket consumption.
Valerie Stull, doctoral graduate from the University of Wisconsin – Madison Nelson Institute for Environmental Studies, worked with Weir as an undergraduate, and has become very interested in the sustainability of insect farming. When she contacted Weir about doing a project together, she pointed out that, while the academic community knew of many great nutritional benefits in eating insects, they weren`t sure what effects it has on microbiota in the gut....
...more

Ken Notes: Again, we will eat exponentially more crickets when we are blissful unaware that we are eating them at all. Think about it, "Hey want some new chocolate ice cream vs. hey want to try some new frozen chocolate cricket stuff"....
---
Links we like supporting Wisconsin`s Environment and Business. More will follow each week...
...more
Ken Notes: Share this and if you want to be included:
Call us - 608.334.2174 or Editor [at] WDNGreen.com....
---
The Wisconsin Public Service Commission has announced that a Waunakee brewery is among 31 applicants chosen to receive an Energy Innovation Grant from this year's $5 million program.
The overall mission of the Energy Innovation Grant Program is to reduce energy consumption, increase the use of renewable energy and transportation technologies, bolster preparedness and resiliency in the energy system and ensure steps for the creation of comprehensive energy plans for Wisconsin.
Octopi Brewing, LLC, has received a $250,000 grant to support installation of a photovoltaic and battery system. The payback with the grant is expected to be 6.94 years, as opposed to 16.95 years without the grant, according to a release from the PSC...
...more
---
Scot Storm of Freeport, Minnesota, won the 2018 Federal Duck Stamp design contest, while Wisconsin artists Frank Mittlestadt of Beaver Dam took second and Greg Alexander of Ashland took third.
...more
---
ST. PAUL, Minn. (AP) — Environmental and tribal groups have asked the Minnesota Public Utilities Commission to reconsider its approval of Enbridge Energy's plans to replace its aging Line 3 crude oil pipeline across northern Minnesota.
The groups filed their requests Tuesday. Opponents contend the line does not meet permit criteria.
The Sierra Club, Youth Climate Intervenors, Friends of the Headwaters and Honor the Earth are among groups asking the PUC to reconsider its decision...
...more
---
The world's biggest EV market is highly fond of small electric vehicles.
If we're to tell you that 1.75 million EVs were sold in China in 2017, you probably wouldn't be that surprised. After all, the Chinese market is one of the biggest when it comes to electric vehicles. However, the aforementioned number stands for something other than full-fledged electric vehicles. It correlates to the number of LSEVs (Low-Speed Electric Vehicles) sold in the world's most populous country. The small, slow and super cheap vehicles are taking over the country, especially in the rural areas. While they are bringing the thrill of driving to the masses, they are also hampering the government's efforts to develop an upscale EV industry...
Ken Notes: Very interesting read, but even with all the headaches the development of technologies in China will lead to a far more rapid development curve than here in the US. Watch for the next great next gen electric vehicle to come from China and take the market by storm... By the way Forbes thinks I am right...

...more
---
A wild yeast sourced from Wisconsin is ushering in a whole new class of beers
Kirby Nelson isn't a beer geek. He's a brewery geek. The brewmaster for Wisconsin Brewing Company, Nelson describes himself as an environmental technician whose job is to create and optimize the ideal configurations of water, barley, hops and yeast — and then let mother nature do the rest.
Barley and hops get most of the credit for giving beer its flavor, but yeast plays an essential role too, creating the alcohol and carbonation through the process of fermentation.
And not all yeasts are created equal. Over the course of his career, Nelson has through experimentation found the strains that perform best for each of the various styles of lager and ale brewed at Wisconsin Brewing Company's Verona facility. But this fall, he's going to be testing out something totally new — a recently discovered species of wild yeast native to Wisconsin that could help unlock a whole new category of beer...
...more

Ken Notes: Wild yeast = better beer yet another reason to protect our environment. This is a fun and very interesting read...
---
In late winter of 1984, my younger (and only) brother, John, assigned me little bit of reading, the section called "Sky Dance" from the April entry in Aldo Leopold`s book "A Sand County Almanac." This was a bit of a switch in our relationship, since at the time, I was a college senior majoring in English at Xavier University in our hometown of Cincinnati, and he was a junior majoring in wildlife management at Ohio State in Columbus — I was the one who assigned any mutual reading....
...Of course, John is still my little brother, so I`ll be joining him at the mic to help out, and we`ll tell some stories together. The Prairie Rivers Network dinner will take place on Friday, Oct. 26, at the I Hotel and Conference Center in Champaign. Advance registration is required, and details are available through the Prairie Rivers Network website at prairierivers.org.
...more

Ken Notes: Interesting article, we need more stories like this to share...
---
Climate change is having an outsized impact on national parks in the U.S., according to research conducted by scientists at the National Park Service, the University of California Berkeley and the University of Wisconsin Madison.
In a paper released today, the researchers take the first comprehensive look at shifts in climate at all 417 sites managed by the National Park Service. The study, published in Environmental Research Letters, details changes that have occurred since the late 1800s and projects how the climate might further transform by the end of this century...
...more

Ken Notes: This can`t be good...
---
We try to include links to help you consider your GREEN economic development options in Wisconsin. Businesses feel free to send us your information here.
...more
Ken Notes: Feel free to include this link and logo on your website. Our Tools and Resources are always a
click
away. Also a new easy to use address:
www.WDNGreen.com/tools/
---
WDNGreen is based on a nonpartisan, pro environment agenda, from a sound business and economic development viewpoint. I am wondering if some of my readers and sponsors would like to meet and discuss a short list of objectives or a legislative agenda going into the November elections.
We could address and ask all candidates to weigh in on issues like:
Mining
Renewable Energy and Fuels

Our Watersheds and the Great Lakes

Land Use
CAFO`s and Agricultural Issues
Transit and Mass Transit
ECO Tourism
I would draft a set of resolutions available early in September. We would meet one or two times to adjust, rewrite, or add to these positions. We would then present these issues to the candidates for them to comment on and share the results with our readers. Call if your are interested. 608.334.2174...

...more
---
Coverage of local and national eco news for commercial development, home, transportation, food and community. We search for environmentally friendly news that makes economic sense for Wisconsin.
ONLINE HERE
. Please share with a friend. To receive WDNews GREEN on Monday of each week as an email you must subscribe -
secure link to subscribe is here
.
Want to comment, or have an idea:
Ideas[at]WisconsinDevelopment.com
We may now need to build a coalition that is willing to lobby from a "greener" yet pro business perspective. Lots of HUGE issues: Sand Mining, CNG, LEED Alternatives, Focus On Energy, LED Lighting R&D, Cleaner Power Generation, Recycling, Power Lines, Electric Cars, Wind, Solar, Bio Fuels, Digestors, Green AG, Business Incentives...And of course the Greenest and Happiest of Holidays to you!
Please consider sponsoring WDNGreen!
WDNews GREEN will be emailed on Mondays, included in WDNews on Thursdays, and online all the time at: WDNGreen.com Each week we will find 10 to 20 articles from Wisconsin and across the Nation dealing with environmental issues. Our goal is to promote environmental excellence from a sound business perspective.
Our resource guide at the bottom of this publication will continue to grow, and you may add links, suggest articles, include your press releases, or comment by
eMailing Me
. As always thanks for reading, and if you would like to sponsor or get involved call 608.334.2174...
...more
Ken Notes: Please forward this to friends and colleagues who have an interest in our economy and environment.
You may eMail Me Here
.
Start Week: 38 - Query String:SELECT * FROM wdngreen WHERE `issue` > 38 and volume = 6 OR `issue` > 90 ORDER BY sortorder